Summer 2019 Performances: Stonewall: From Revolution to Celebration
Summer Performances Schedule:  (Click the link for more information about and directions to each venue):
Many thanks to our loyal fans who joined us for our Summer Concert series in early June.  BUT WAIT - IT'S NOT OVER!!   The New Wave Singers of Baltimore, Maryland's premiere GLBTS mixed chorus, will be reprising some of our numbers at a few events during the summer intermission - including our interpretations of songs that would have been featured on the jukebox at the Stonewall at the time of the uprising in 1969 as well as anthems that have served as the soundtrack of the modern LGBTQ+ rights movement.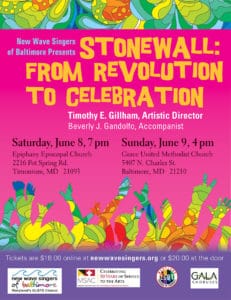 Thank you for your support - we look forward to seeing you at the show!!
Purchase Tickets For Our 2019 Summer Concert: