Summer 2019 Concert: Stonewall: From Revolution to Celebration
Join us for our Summer Concert:  Stonewall: From Revolution to Celebration
The New Wave Singers of Baltimore, Maryland's premiere GLBTS mixed chorus, will be featuring our interpretations of songs that would have been featured on the jukebox at the Stonewall at the time of the uprising in 1969 as well as anthems that have served as the soundtrack of the modern LGBTQ+ rights movement.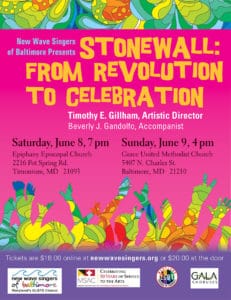 (Click the link for more information about each venue and obtain directions):
Tickets:  Adult Pre-Sale Online:  $18;  At Door: $20.  Youth 17 and under are free.
Pre-Sale tickets held at door under name of person as indicated in the email confirmation provided.
Thank you for your support - we look forward to seeing you at the show!!
Purchase Tickets For Our 2019 Summer Concert:
June 8, 2019




7:00 pm - 9:00 pm

June 9, 2019




4:00 pm - 7:00 pm