Purchase Tickets
Upcoming Performances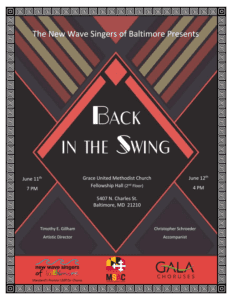 The New Wave Singers of Baltimore is pleased to invite you to our live jazz music concert, Back in the Swing, on June 11th & June 12th.  Popular tunes such as Take the A Train, You Made Me Love You, and Route 66 will be featured along with lesser-known jazz renditions of Wave, All the Pretty Horses, and On a Clear Day. Songs from artists such as Billie Holliday, Ella Fitzgerald, and The Manhattan Transfer will round out the program.
Two performances of this concert will take place: one on Saturday, June 11th at 7:00 PM, and the other on Sunday, June 12th at 4:00 PM.   Both performances will be held at Grace United Methodist Church, 5407 N Charles St., Baltimore, MD 21210 (at the corner of N. Charles St. and Northern Parkway) in their 2nd Floor Fellowship Hall, which is accessible by stairs or elevator.
Tickets / Prices:  Regular Admission (all ages): $20
*** Tickets will not be available at the door ***  All tickets must be ordered online, in advance, from our website using the links above.  Please remember to select the ticket(s) for the performance you want to attend (Saturday evening, or Sunday afternoon).
Covid-19 Safety Policies & Protocols
(important information for all audience members)
New Wave Singers of Baltimore has always welcomed everyone with open arms to its performances, demonstrating our deep commitment to creating an atmosphere of acceptance and diversity. Although we strive to maintain those core values, we must also provide a performance experience that is safe for everyone. To that end, we have made the following changes in our policies & protocols for the Back in the Swing concert performances.
The following adaptations will help us adhere to guidelines from the CDC and those of our performance venue, Grace United Methodist Church.
All Chorus members are fully vaccinated and will wear masks throughout the concert. Soloists may perform unmasked, but will be well-distanced from the audience.
Masks are currently required inside Grace United Methodist Church. We ask that all audience members remain masked while in the building and in the performance space during our concert.
Hand sanitizer and disposable masks will be available to anyone who may need them.
Seating will be arranged in the performance space to provide the safest distancing possible for our guests.
NOTE: For the safety of our guests and singers, these protocols may need to change as we approach our concert dates. Please check our website for any updated Covid protocols on Friday, 6/10/22, before our concert dates.
Final Notes
We want our performances to be as safe as possible for everyone, but please remember that attendance is at your own risk, and for everyone's safety, all members of your ticketed party must comply with our attendance safety guidelines. New Wave Singers of Baltimore, Inc. and Grace United Methodist Church are not liable for any Covid-19 related personal exposure or illness that might arise from attendance at one of our performances.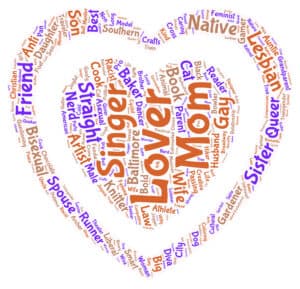 Thank you for supporting The New Wave Singers of Baltimore, and we look forward to sharing our music – and this season – with you!
New Wave Singers of Baltimore, Inc.
Maryland's Premier LGBTQ+ Community Chorus