Upcoming Performances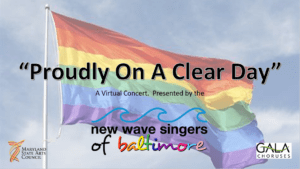 We hope you'll be able to join us for our virtual concert, "Proudly On A Clear Day," streaming nightly at 7:00pm eastern on June 19, 20 & 22, 2021.   As the world emerges from quarantine from the global pandemic that kept us sequestered the entirety of our chorus's 35th Anniversary year, it seems fitting that our last virtual event of the season before hopefully returning to live performances in the fall reflects our joy in singing "Proudly On A Clear Day!"  We're confident you'll enjoy this virtual concert (with a runtime just over 47 minutes) which highlights our messages of hope, diversity and inclusion with performances from our past and present that showcase our talents and celebrate our love of our home "Charm City" Baltimore during the month of Pride!   Click Here to register to attend.  Donations to help support our continued operations are appreciated but not required.
*******************************************************************************************************
Planned for When Performances Can Resume:  Showcase"Speakeasy"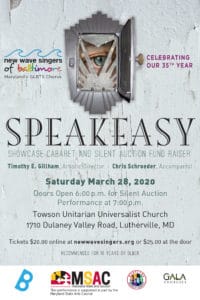 NOW POSTPONED UNTIL FURTHER NOTICE!!  We regret that due to the closure of our scheduled venue amid concerns over the corona virus, the showcase is being postponed until further notice.  While we do hope to be able to reschedule the event soon, tickets that have purchased for this event so far will be refunded.  Thank you for your understanding!

Thank you for your support - we hope to able to perform for you at a live show some time soon!!
Purchase Tickets