Upcoming Performances: Scheduled Outreach Appearances and our Winter Concert Series
Outreach Performances Schedule:  (Click the link for more information about and directions to each venue):
Monday December 2 at 7:00 PM at Sinai Hospital & Levindale Long Term Care Facility
Winter Concert Series Performance Schedule:
Tickets now available using the links (found beneath the concert poster below) at the presale price of $18 for adults OR for $20 at the door the day of the concert.   Children 17 and under are free.  For groups of 10 or more, please email treasurer@newwavesingers.org for group discount reservations.
Thank you for your support - we look forward to seeing you at the show!!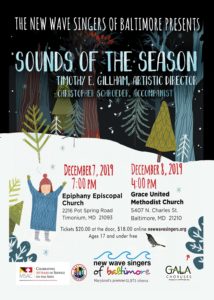 Purchase Tickets For Our 2019 Holiday Concert: Sounds of the Season