Spring 2019 Concert: Broadway Our Way Showcase and Silent Auction
Join us for our Spring Showcase:  Broadway Our Way!  The New Wave Singers of Baltimore, Maryland's premiere GLBTS mixed chorus, will be featuring our interpretations of Broadway tunes.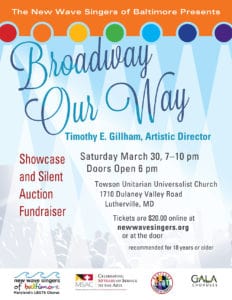 (Click the link for more information about the venue and directions):
Tickets:  General Admission: $20.
Purchase Tickets For Our 2019 Spring Showcase: